Services:
Solar Energy Design
and Off Grid Solutions
Why Work With Remedy Solar
Remedy Solar was founded to design solar water pumping systems for off-grid and remote locations.  We design systems based off the sites dynamic head, gallons per day needed and desired water pressure.  We will suggest the best pump option for your needs with a quote for the materials needed.  With the sale of a pump system, we provide wiring diagrams for the system and free troubleshooting support for the life of the system.
Brad Stevens the owner and founder of Remedy Solar has a bachelors degree in Geography and G.I.S mapping and is a NABCEP Certified PV Professional.  For the last decade, Brad has been designing solar power systems that range from off grid battery based homes, grid tied commercial buildings and remote water pumping for livestock and villages.  By living off grid on the west side of the Bitterroot mountains, Brad has experienced many of the challenges and solutions that are a part of off grid living.  From this, as well as working in range land and forest management and designing all aspects of solar power generation Remedy Solar can provide the best solar power design for your unique needs at a competitive price.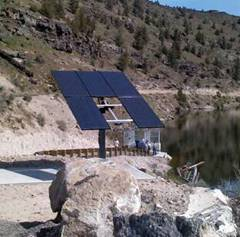 Expert Design and Installation